The price of gold may have fallen 2.8% on Monday to R26,980 per 10 gm, but that will be little consolation for buyers who saw a price of R19,645 last Diwali. Gold prices fell 1.7% more on the London Metal Exchange on Monday as investors sold the yellow metal to ostensibly cover losses in other assets. As of 1822 IST, gold was quoting at $1,630 an ounce, its biggest three-day loss in 28 years. Gold is now 14% below its recent peak of $1,900 an ounce it hit on September 5 this year.
Gold prices are now up 31%, in rupee terms, since January as against a 15% gain in dollar terms.
Gold is one of the few assets that remain in positive territory this year; in a sense, it is one of the last assets standing, and because of this, as investors head for cash, they sell the assets that have performed, Edel Tully, a London-based analyst at UBS AG, wrote in a report on Monday. While golds retracement was not really a surprise, the depth of its plunge certainly was.
Silver joined gold on its way down on the exchanges. Silver has erased all the gains it made during the year and is currently down 6.8% while other precious metals such as platinum and palladium were down 11.5% and 21.5% respectively.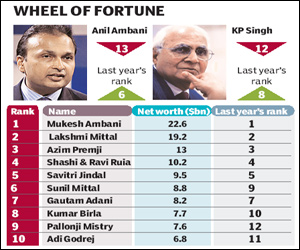 Interestingly, the UK-based precious metal consultancy GFMS had forecast gold prices would cross $2,000 an ounce by year-end on the back of strong investment demand, which it said will equal peak levels seen in the financial crisis of 2008. A couple of weeks back, HSBC had raised its gold price target to $ 2000 an ounce for 2012.
To combat excess volatility, CME Group increased the margin requirements for gold and silver trading. While minimum cash deposit for gold futures is up 21% at $11,475 per 100-ounce contract, that for silver was raised 16% to $24,975.
According to analysts, rising investment demand is fuelling gold prices. As per World Gold Council, 38% (or 4,000 tonnes) of the demand for gold in 2010 was investment-led. Out of that, 28% or 367 tonnes comprised demand from gold exchange traded funds, which are increasingly becoming popular. Demand for jewellery which continues to be the largest contributor to gold demand has also been falling over the years thanks to higher gold prices.
Hedge funds and other large speculators trimmed their net long gold positions by 11% to 150,529 contracts in the week to September 20, data from the US Commodity Futures Trading Commission showed. Gold exchange-traded-product holdings fell 0.4 metric tonne to 2,235.6 tonnes on September 23.