Foreign institutional investors (FIIs), which exert a substantial influence on the Indian markets, have increased their stake in nearly half of the Sensex companies in the past quarter. Among the 16 Sensex firms that have disclosed their shareholding pattern for the quarter ended September 30, 2010, 14 saw a rise in the FII holdings. This shows that FIIs were mostly bullish on large caps in the September quarter.
FIIs have increased their stake by more than 2% in State Bank of India, HDFC Bank and ACC, and by more than 1% in L&T, Tata Power, HDFC, Hindustan Unilever and Jindal Steel & Power. Bharat Heavy Electricals is the only Sensex company where FIIs have reduced their stake.
Among the BSE 500 companies, FIIs have invested across sectors, particularly banks.
Apart from SBI and HDFC Bank, they have increased in their holdings in Allahabad Bank, Andhra Bank, ING Vysya Bank and Indian Overseas Bank. According to a leading brokerage firm, the second quarter is likely to be another strong quarter for Indian banks with a strong 25% earnings growth.
Interestingly, FIIs have largely focused on the large caps in the past quarter. One reason for this is several new foreign funds have taken exposure to India and have therefore confined their investments to top companies to minimise risks. Our order book shows that we are increasingly seeing investors in a basket of stocks. This seems to suggest that a lot of first-time foreign institutional investors are putting in their monies in India, said Suresh A Mahadevan, managing director, head India research, UBS Securities India.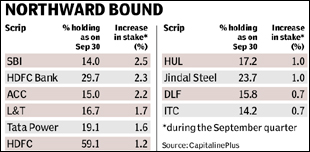 The Sensex is trading at a price to earnings ratio of 19 times its FY11 earnings estimate. That looks a tad expensive if takes into account Indias long-term PE average of around 15 times. However, market participants believe the markets are still a long way off from the giddy valuations reached in 2007. With robust GDP growth, lower inflationary pressures and higher earnings growth, I dont see any reason why India cant trade at 20 times earnings for some time, said Mahadevan, adding that while valuations are not cheap in India, it is one of the most promising growth stories around. Money has to chase returns. If our market performs well, it will attract more money, he added.
FIIs have invested a record $23.18 billion in the year till date. In the period between July 1 and September 30, they have pumped in $12.55 billion. While record inflows and the renewed interest in India may be welcome, the market fears that too much of liquidity can drive asset prices and lead to a substantial appreciation in the rupee.