For the first time, the railways earnings are set to exceed the R1 lakh crore mark, at R1.06 lakh crore, according to the Railway Budget estimate for 2011-12 a 12% increase over the revised budget estimates of 2010-11. The total working expenditure is expected to touch R96,450 crore, a 10.6% increase over 2010-11. With this, the operating ratio of the railways would improve marginally to 91.1% in 2011-12, compared with 92.1% of 2010-11.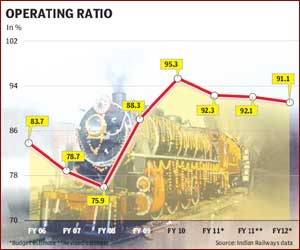 Explaining the budgetary estimates for 2011-12, railway minister Mamata Banerjee said, The freight traffic projection for the year is 993 million tonne, a revenue estimate of R58,501 crore, and passenger growth is expected to be 6.4% over 2010-11 at R26,126 crore. Assuming a clearance of R200 crore from traffic suspense, the gross traffic receipts are estimated at R1,06,239 crore.
On the expenditure side, ordinary working expenses of R73,650 crore are 9.9% higher than the revised estimates of 2010-11, owing to a higher wage bill that includes annual increments of salaries, DA, higher requirement for fuel and materials for increased level of activity and lease payments. The appropriation to pension fund is pegged at R15,800 crore and to the depreciation reserve fund at R7,000 crore. A provision of R6,735 crore has been made for dividend payment, leaving an excess of R5,258 crore to be channelled to the development fund and capital fund.
The annual plan outlay for 2011-12 is the highest ever at R57,630 crore. Of this, R20,000 crore will be supported by the gross budgetary support, R1,041 crore through the diesel cess, R14,219 crore through the railways internal resources and R20,594 crore from market borrowings through the Indian Railway Finance Corporation, considering its past excellent performance in the financial markets. Normally, IRFC raises between R9,000 crore and R10,000 crore annually for leasing of rolling stock. Next year, an additional amount of R10,000 crore would be raised through tax-free bonds for financing select capacity enhancement works. Further, external sources of financing through PPP and other initiatives is expected to yield R1,776 crore.
As part of the annual plan outlay, R9,583 crore is being allocated for new lines. Of this, R5,406 crore is for doubling and R2,470 crore for gauge conversion to complete 876 km and 1,017 km, respectively, and R13,820 crore for acquisition of rolling stock to overcome shortages of wagons, coaches and locomotives.