Continuing its acquistion spree, the Thapar-owned Avantha Groups, Crompton Greaves has snapped up the UK-based electrical engineering firm Power Technology Solutions (PTS) for 30 million, (about Rs 204 crore). This is the sixth major overseas acquisition in the span of five years by the Mumbai-headquartered firm. Indeed, as a result of its forays, the companys overseas operations now contribute more than 50% of its revenues.
According to the management, with this buyout, Crompton will be able to significantly consolidate its position in the engineering, procurement and maintenance (EPM) segment in the UK. Moreover, it would also get access to newer markets. This acquisition is a step forward towards achieving our revenue goal of $8 billion by 2015, Cromptons managing director Sudhir M Trehan said in a statement. Experts, however, point out that the margins in the business may not be higher than that of its core power equipment business and that the projects space is a high-volume game.
The engineering company has over the years made several acquisitions overseas which include Pauwels, Ganz, Microsol, MSE power and Sonomatra. With manufacturing facilities in five locationsBelgium Canada, the US, Ireland and IndonesiaPauwels was catering to the US and west European markets and Crompton snapped it up for about euro 43 million.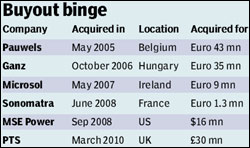 That was in May 2005. Just over a year later, in October 2006, it closed in on the loss-making Ganz, a Hungarian firm making switchgears and bought it for euro 35 million. Ganzs technology was state-of-the-art and it was selling in markets like the Middle-East and Eastern Europe. By May 2007, Crompton had completed its third acquisition; it bought out the euro 9 million Microsol Holdings, a small profitable company in Ireland that provides automated technologies for running sub-stations.
Then in early 2008 Crompton bought France-based Societe Nouvelle de Maintenance Transformateurs (Sonomatra) for about euro 1.3 million to enhance its capabilities in the services segment of its transmission & distribution business. Subsequently, to increase its strength as a systems integrator in the engineering, procurement & construction (EPC) international business arena, particularly in the renewable energy (wind) segment, Crompton in September 2008, acquired the US-based MSE Power for $ 16 million.
Some of these companies, like Pauwels and Ganz were in bad shape financially, but Crompton has managed to turn them round to make them profitable. In the process, the engineering firmnot only expanded its footprint overseas but also successfully leveraged their competencies for developing high-voltage equipment for the domestic markets. Says Sunil Teluja, analyst at ICICI Securities, While these subsidiaries have been unable to grow in 2009-10 owing to unfavourable economic conditions in Europe and North America, we expect them to return to growth from 2010-11.
Its acquisition spree has placed Crompton Greaves among the leading transmission & distribution companies in the world. PTS rich exposure to comprehensive electrical engineering space and diverse clientele base in the UK will help Crompton Greaves expand its geographical reach, say industry experts. PTS is also looking to tap the opportunity in the renewable energy space, a growing market in the UK. Industry sources say Cromptons strong positioning in the domestic transformer market, steady profit margins despite competitive pressures and continuing inorganic growth augur well for its earnings growth. During the quarter ended December 2009, Cromptons consolidated revenues grew 4.5% year-on-year to Rs 2,200 crore.
Thanks to a smart increase in the operating profit margin of 375 basis points year-on-year to 14.2%, the company reported a sharp rise in the net profit of 71% to Rs 200 crore.