Less than a week to go before the empowered group of ministers (eGoM) take a final decision on the price band for the Coal India IPO, speculation is rife that it would be priced at a 20-30% discount to its global peers. Its IPO price band, is expected to be anywhere between Rs 220 and Rs 270.
Among Coal India's global peers are China Shenhua, chinas largest coal producer, with a market capitalisation of $ 73 billion and Peabody Energy Corp, USs largest coal producer. Global coal producers are currently quoting at a price to earning (PE) multiple of 17-24 times, as per bloomberg data.As per expected price band of Rs 220 and 270, Coal Indias PE ratio works out anywhere between 14 and 17 times on an earnings per share (EPS) of Rs 15.6 for 2009-10. This works out to a maximum of 30% discount to be offered to average global multiples of 20.
It is not a good strategy to price the issue at a premium to the global peers even if there is a great investor demand. The pricing should be done in line with the global peers and should let the markets decide, said an investment banker involved in the IPO. However, given the companys debt-free balance sheet, cash reserves of over Rs 30,000 crore and huge coal reserves is likely to help it get premium over its international peers.Interestingly, though the companys projected EV/Ebitda is higher at 14.8, as against an average of 10 for its global peers.
Lower earnings volatility, a large undeveloped resource base and potential to improve realisations warrant a premium to global peers, says IIFL in a report on Coal India.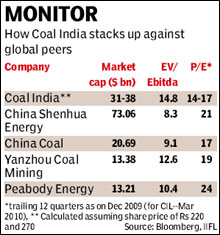 It is likely though that the government will still price the issue at a discount to its global players given that it has lined up a huge disinvestment programme in the current fiscal and it is wants to keep the investor interest intact for its forthcoming offerings.
The final decision on Coal India price band will be taken by eGoM on October 12. Continuing with its previous trend, the government is likely to offer retail investors a discount of 5%.