Those who thought that distance education was pass are in for a surprise as close to one-fourth of the country's students are getting educated through the distance mode.
The Open Distance Learning (ODL) system, also known as Distance Education (DE) system, has evolved as one of the effective modes of education and training as the overall annual growth in enrollment between 1975-76 and 2008-09 was 5.6% for the conventional system, while it was 16.3% in the ODL system.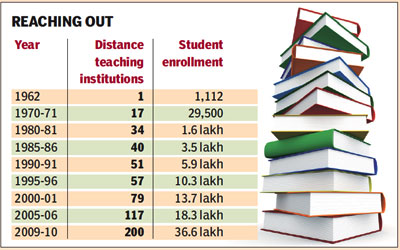 In fact, the enrollment in distance education has been increasing approximately at the rate of more than 10% in last two decades. Enrollment in Open Universities (OUs) and Distance Education Institutions (DEI) has increased steadily at a higher pace than in conventional programmes.
According to the report of a seven-member committee headed by NR Madhava Menon, the share of distance education increased from 2.6% in 1975-76 to 8.9% in 1985-86 and further improved to 10.7% in 1990-91 and to 20.56% in 2008-09.
At present, close to 24% of all enrollments are in the ODL system and growing fast because of the reach of this mode and the opportunities it gives to those who are already employed and seek to enhance their qualifications, Prof V N Rajasekharan Pillai, former vice chancellor of IGNOU and member of the committee told FE.
Interestingly, the contribution of ODL to gross enrolment ratio (GER) in higher education has risen to about 22%.
Numbers favour distance education despite the general mindblock against it something that experts say is developing a skilled labour force in the country.
Distance education is challenging the tyranny of conventional education system of 10+2+3. It is a very good vehicle for motivated people who want to re-enter the work force or the education system by getting certified. Distance education needs wide open entry gates, but tight exit gates, said Manish Sabharwal, chairman, TeamLease Services.
A TeamLease study recently said 58% of India's youth suffer some degree of skill deprivation as the higher education system lacks flexibility (in entry, exit and re-entry). This, it says, can be scaled up in quality and reach only by creating competition with transparent regulation, legitimising distance education, legitimising private ownership, creating, recognising and legitimising vertical mobility among short-term certificates and medium-term diplomas by paying more attention to school-level education, fostering PPP models and deregulating higher education and study centre frameworks. Tweaking the skill and employment ecosystem is also required, it says.
Specialised programmes, especially in higher education, add more qualification and hone the current skills. This helps people in doing their jobs better," added Aditya Narayan Mishra, president, staffing at Randstad India.
The total enrollment in the conventional system stands at 136.42 lakh and there are another 36 lakh learners in ODL system. ODL constitutes about 22% of the total enrollment in the conventional system.
"Enrollment in technical and professional courses in the ODL system is less than 10%. In DEIs, it is in the range of 6-10 % and in state open universities (SOUs) it is in the range of 10-15 %, the report noted.
About 87% of the total enrolled students in conventional system are at the graduate level. In the ODL system also, the enrolment is highest in undergraduate programmes, but it is less than that in the conventional system. The percentage of students enrolled for post-graduate general programme in conventional system is 10.92 %, while the same in the ODL system is in the range 15-20% in SOUs and around 30% in DEIs.
A very small proportion, almost 0.7% of the total number of students, in conventional system are enrolled for research. Out of the total research students (0.83 lakh), 86% are in the universities. There were 954 PhD students in open universities prior to UGC notification not allowing research programme through distance mode.