Indian stocks to watch: Adani Power, Tata Power, NTPC shares
Reuters Posted online: Thursday, Mar 20, 2014 at 0000 hrs
5 newsmaker stocks to watch on Thursday include NTPC, Adani power, Tata power Company.
States to go to tribunal on CERC ruling for compensation to Adani Power, Tata Power
Little respite for NTPC as Delhi HC refuses stay on CERC tariff norms (Read Story)
Poll panel raises red flag on bank license timing
Perseverance pays for India's richest man and his retail foray(Read Story)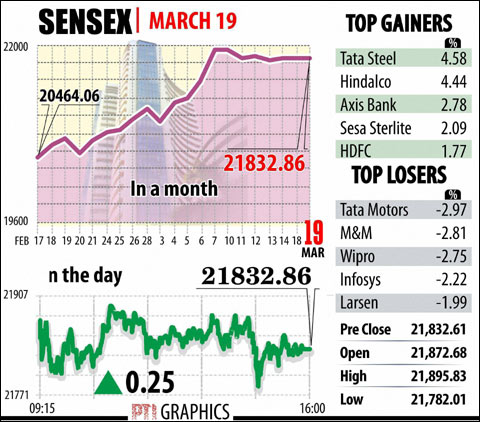 Indian regulator orders Financial Tech to sell stock exchange stake
India allows more banks to import gold in easing of curbs
India's Sagar denies report of JV stake sale talks with Vicat
Allcargo Logistics says signs agreement for trailers with Scania
NSE Nifty futures traded on the Singapore Exchange is down 0.4 percent, while the MSCI-Asia Pacific index excluding Japan is down 1.1 per cent.
Asian share markets trading lower as selling flowed through to Asia, where Japan's Nikkei .N225 slipped 0.7 per cent while the Australian market lost 0.8 percent.
US stocks fell on Wednesday after comments from Federal Reserve Chair Janet Yellen raised the possibility of an earlier- than-anticipated increase in interest rates.
KEY EVENTS/FACTORS TO WATCH
India cbank chief to address banking event, meet economists, India cbank deputy Chakrabarty at event
Also Check: