Mumbai :
BSE Sensex
fell more than 1 percent on Thursday to snap a five-day winning streak as lenders such as
HDFC Bank
dropped on profit-taking, while sentiment also waned as the Indian rupee reversed part of its recent gains to the US dollar.
Caution prevailed ahead of factory output and CPI data, scheduled for release later in the day even as foreign institutional investors remained net buyers of Indian shares, bringing their total to nearly 57.8 billion rupees over the previous five sessions.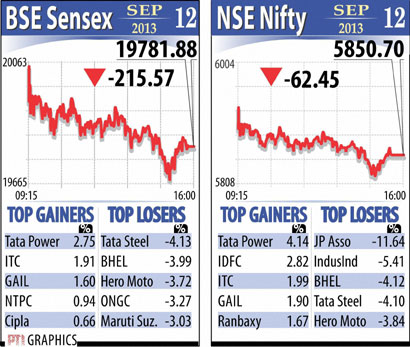 The Indian rupee also fell after five days of gains, even as the Reserve Bank of India (RBI) likely sold dollars via state-run banks starting at around 63.95 levels to prevent further weakness in the currency.
Dealers say the wholesale price inflation data and tempered expectations over the pace at which the US Federal Reserve would withdraw its stimulus after its meeting next week was also seen weighing on the market.
"Macro data, Fed meet hold importance, but I see RBI policy on September 20 to be a silver lining amid the dark clouds," said Deven Choksey, managing director of KR Choksey Securities.
The benchmark BSE Sensex fell 1.08 percent, or 215.57 points, to end at 19,781.88, retreating from their highest level in nearly 1-1/2 months in the previous session.
The broader NSE Nifty fell 1.06 percent, or 62.45 points, to end at 5,850.70, closing below the psychologically important 5,900 level after gaining nearly 11 percent over the previous five sessions.
Among banks, private lenders ICICI Bank fell 1.9 percent, while HDFC Bank Ltd ended 2.1 percent lower mainly on profit-taking.
Wholesale-funded banks were hit more. Yes Bank Ltd slumped 7.4 percent, while IndusInd Bank Ltd ended 5.4 percent lower.
Jaiprakash Associates Ltd slumped 11.6 percent after earlier rising as much as 2.1 percent on profit-taking. It agreed to sell its cement plant to UltraTech Cement Ltd on Wednesday.
Jaiprakash Associates Ltd' shares had risen about 27 percent in the previous five sessions in anticipation of such a sale, dealers said.
Shares of Tata Motors, India's largest automaker by revenue, fell 2.1 percent after the company said on Wednesday its global wholesale vehicle sales fell 16 percent on year in August, hit by a drop in passenger vehicle sales.
Oil & Natural Gas Corp (ONGC) fell 3.6 percent after India's oil secretary said India will decide on raising the retail prices of diesel and cooking gas in a few weeks, disappointing traders who were looking for an immediate decision.
Among the gainers, IDFC Ltd shares rose 2.8 percent after the Reserve Bank of India on Wednesday lifted restrictions placed on foreign investors purchasing the company's stock as their shareholding fell below the prescribed limit Shares in HDFC Ltd ended 0.3 percent higher after earlier falling as much as 2.3 percent as FTSE increased its "investability weight" to 100 percent from 74 percent in its global equity index series, as per its website.
Sanjeev Zarbade, Vice President- Private Client Group Research, Kotak Securities: Going ahead, we have the IIP data and CPI reading coming up (post market hours). Beyond this, the FOMC meeting scheduled on Sep 17-18 would be important. If the Fed tapering is on the lighter side than what was previously expected, Sensex could look at consolidating the recent gains. Meanwhile, Bank Indonesia has raised its benchmark interest rate by 25 basis points to 7.25 percent today. The move comes as a surprise as it was widely expected that the central bank would keep rates on hold after it raised the benchmark rate by 50 basis points in late August in an attempt to prop up the beleaguered rupiah. It needs to be noted that like India, Indonesia has also suffered a sharp depreciation in its currency.