on continued receipts by exporters.
The benchmark six-month forward dollar premium payable in February declined to 250-255 paise from Tuesday's close of 256-263 paise. Far-forward contracts maturing in August dipped to 447-452 paise from 460-470 paise.
The RBI fixed the reference rate for the dollar at 67.0289 and for the euro at 88.2374.
The rupee recovered against the pound sterling to end at 104.72 from 105.16 previously and rebounded to 88.42 per euro from 89.04.
It gained against the Japanese yen to 67.44 per 100 yen from the previous close of 68.03.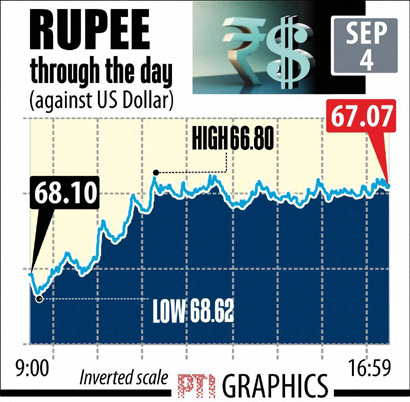 Indian rupee in sharp rebound on suspected heavy intervention
(Reuters) - The Indian rupee staged a sharp recovery on Wednesday after suspected heavy dollar selling by the central bank, preventing the battered currency from slipping to a record low on the same day that the authority ushers in a new governor.
Raghuram Rajan, a former chief economist at the International Monetary Fund (IMF), takes charge at the Reserve Bank of India as the country faces its worst economic crunch since a balance of payments crisis two decades ago.
In a reminder of the uphill task he faces, a report on Wednesday showed that activity in India's services sector shrank in August for the second straight month for its lowest reading in four years.
It added to a series of data showing the economy struggling for growth. GDP figures last week said annual growth had slipped to 4.4 percent in the April-June quarter, its weakest pace in four years. The mining and manufacturing sectors contracted from a year earlier.
The country is grappling with a record current account deficit and a hefty budget deficit, factors both weighing on the rupee. Concerns about rising prices for oil and gold, India's two biggest import items, are keeping pressure on the currency.
At 0754 GMT, the rupee was changing hands at 67.23/25, up 0.6 percent from Tuesday's domestic close.
Dealers cited heavy central bank intervention via state-run banks, which coupled with dollar selling by foreign banks related to arbitrage opportunities with the offshore rupee market, pulled the rupee sharply back from its day's low of 68.62 per dollar.
The currency hit