Wholesale Victory
fe Bureau: New Delhi, Dec 08 2012, 02:16 IST
The UPA government's reform agenda received a shot in the arm on Friday as a motion against the proposal to allow foreign direct investment (FDI) in multi-brand retail was defeated in the Rajya Sabha, with Mayawati's Bahujan Samaj Party voting in favour of the government.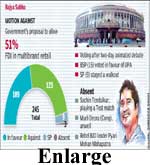 Emboldened by its victory in both Houses of Parliament (it won the vote on FDI in retail and related amendments to regulations in the Foreign Exchange Management Act in the Lok Sabha on Wednesday), the government expressed confidence that it may be now be able to push more reforms in banking, insurance and pension sectors in the remaining 10 days of Parliament's winter session.
"Certainly, we are going to bring in more legislation in coming weeks in Parliament and we will be engaging all political parties on it," an exuberant parliamentary affairs minister Kamal Nath said after the FDI vote in Rajya Sabha.
A total of 123 Rajya Sabha members voted against the motion – moved by AIADMK member V Maitreyan — opposing 51% FDI in multi-brand retail, while 109 voted in favour. This sets the stage for global supermarkets like Walmart and Stockmann to enter the country's fast-growing, $450-billion retail sector.
Stock markets largely ignored the news with the Sensex closing 63 points lower at 19,424.10 on Friday, possibly as the victory was discounted into the stock prices. The government justified FDI in multi-brand retail as being beneficial for the economy; drawing foreign investment, helping set up efficient supply chains, reducing