Asset quality headwinds and margin pressure persist
We maintain our Underperform rating on SBI at this juncture with a 12-month price target of R1,915. We are not changing our earnings and would prefer to wait to get more visibility on future margins and loan growth that we think could moderate. Further, credit costs may also remain elevated given the slower provision cover. We would like to see more visibility on a sustained improvement in both asset quality and earnings.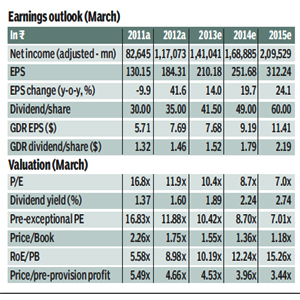 Weaker asset quality and rising possibility of disappointment on margins may lead to weak earnings trajectory. Hence, SBI may narrow the steep premium it trades at, with other government banks given above average slippage rate and largely similar RoEs (returns on equity).
Valuations : We think the stock trading at 1.6/1.4x FY13/14 adjusted book value (after adjusted for subsidiaries value) may not re-rate given asset quality headwinds, challenges on loan growth and fees and RoE of 15/16% in FY13/14. Moreover, SBI still trades more than 40-50% premium to front line state-owned banks despite similar RoEs and higher delinquency. Non-bank business adds R206 per share and R278 per share for associate banks to form our price objective of R1,915. Our price target is benchmarked to the Gordon model theory. Downside risks are a sharper than estimated rise in NPLs (non-performing loans) and no policy rate cuts. Upside risks are recovery in macro and upside to asset quality and growth.
SBI lowers its Q2FY13 slippage numbers: SBI, in an investor call, highlighted that its gross slippages which it had reported at R85 billion on Nov 9 (when it announced its Q2FY13 results) were actually lower at R71 billion. As per SBI, they had 'double counted' as these were loans that were classified as NPLs during the quarter but had been upgraded during the quarter itself, as they moved into restructuring. Hence, as per accounting norms, they can be 'netted off' while reporting "gross slippage" numbers. Accordingly, SBI lowered its slippage numbers and also its upgradation numbers by the same amount (R14 billion) from R31 billion to R16.6 billion. However, net increase in slippages