Tata Motors will achieve growth and take its place as a respected and viable automobile enterprise in the global industry with meaningful size and scale in various segments.
Ratan Tata Chairman, Tata Motors
When Tata Motors bought out marquee British brands Jaguar and Land Rover (JLR) for $2.3 billion in April 2008, few gave the company any chance of being able to revive the business. The buyout was seen as ambitious and meaningless for a company that made trucks and catered for the mid-segment passenger car market. However, within two years after the purchase, in the January-March 2010 quarter, JLR was back in the black, staging a tremendous turnaround.
The management had initiated several new product, marketing and cost-cutting strategies.
The combination of cost rationalisation, a good model-mix and benign conditions in the global luxury car market helped pull JLR out of the trough and turn free cash flow positive in the June 2010 quarter. The management believed it could sell volumes of 57,000-59,000 a quarter given the waiting period for some models. Following the sustained recovery over the past year, analysts have now pencilled in revenues of $10 billion and an operating profit for JLR of over GBP 1.5 billion in the year to March 2012. As for Tata Motors, the company's revenues for 2010-11 are expected to touch Rs 1.23 lakh crore with pre-tax profits likely to cross the Rs 10,000 mark.
Ratan Tata, chairman, Tata Motors said in the company's 2009-10 annual report, "There is great confidence that with the major initiatives undertaken in terms of global acquisitions, product development, new product introductions and operational synergies, Tata Motors will achieve growth and take its place as a respected and viable automobile enterprise in the global industry with meaningful size and scale in the various segments in which it operates."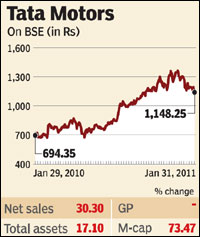 Indeed the acquisition of JLR has proved to be a turning point for Tata Motors. Having managed to hold on to the lion's share of the Indian commercial vehicles (CV) market for more than half a decade, India's biggest automobile manufacturer is now among the top