The Allahabad unit of Congress has left the party red-faced by proposing Priyanka Vadra's name for Phulpur Parliamentary constituency, in a move that appears rooted in factionalism.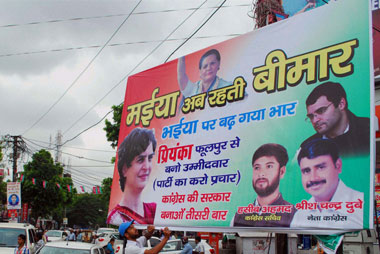 It all began Sunday when Uttar Pradesh Congress Committee observer Anil Singh, a former MLA, arrived in Allahabad to get a feedback on likely candidates for the Allahabad and Phulpur Parliamentary constituencies. He held two meetings — one with the District Congress Committee (DCC) and the other with the City Congress Committee (CCC).
In the DCC meeting the name of its chief, Shyam Krishna Pandey, was proposed for Phulpur constituency. Later in the day, during the CCC meeting, its chief, Abhay Awasthi, proposed Priyanka's name, which was passed unanimously.
The district and city unit chiefs are now at loggerheads condemning each other for their respective action.
Explaining the reason for proposing Priyanka's name, Awasthi said: "Her great grand-father, Pandit Jawaharlal Nehru, represented Phulpur constituency. After Panditji, his sister Vijay Laxmi Pandit represented it. Under the latest de-limitation scheme, two city-based constituencies — Allahabad (North) and Allahabad (West) — are now part of the Phulpur constituency. Anand Bhawan and Swaraj Bhawan lie in Allahabad (North). Therefore, we wanted that she should contest the elections from here."
Awasthi added that with Congress vice-president Rahul Gandhi wanting a feedback from the grassroots level about the candidates, it was a democratic exercise through which the feelings of the workers has been expressed. "We have not written any letter to Congress president Sonia Gandhi and the said proposal will reach her only through proper channel. I do not see anything wrong in this," he said.
However, DCC chief Pandey said his name was proposed from Phulpur because "95 per cent of the committee members were of the view that my name should be proposed."
Describing Awasthi as a "professional offender", the DCC chief said, "It is all for cheap publicity. People who are doing it know that they are too small to discuss an issue that cannot even be discussed by the Parliamentary Board. It is an issue that is within the purview of