Slowdown upends taxmanís high hopes
Gireesh Chandra Prasad: New Delhi, Dec 29 2012, 00:08 IST
Persistent global economic worries and a slowing economy at home have played havoc with the finance ministryís hopes of a 20% jump in tax revenue this year. Only less than half of the targetted net tax revenue has been collected up to October.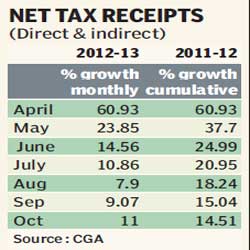 A spurt in advance tax collection in December may make revenue collection a bit better but the trend so far has been that of a progressive decline in growth rate in taxes. The change of approach from an aggressive revenue mobilisation drive to a Ďnon-adversarialí tax regime promised by finance minister P Chidambaram has, in the meantime, posed a major dilemma to policymakers ó whether to embrace an investor-friendly climate sacrificing revenue in a very difficult year in which diesel price had to be raised and subsidised LPG supply had been limited.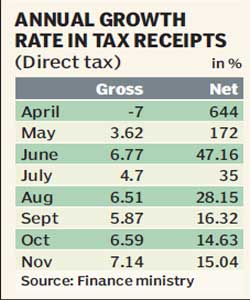 Even the introduction of a negative list based approach from July 1 could not help service tax collection beat the trend of declining growth. Service tax receipts that grew 40% in the first quarter this fiscal dropped to 28% in the next four months up to October even as the economy lost steam. Economic growth had fallen to 5.4% in the first half from 7.3% in the same time a year ago.
The government could not sustain the soft-pedalling of refunds that helped to show an impressive net personal income tax growth in the first two months of the fiscal as delays in returning tax payerís money cost the exchequer