SC clears National Company Law Tribunal
fe Bureaus: New Delhi, May 12 2010, 23:22 IST
The National Company Law Tribunal (NCLT) to fast-track company law cases and corporate structuring by replacing the Company Law Board and the BIFR got the approval of the Supreme Court on Tuesday. The tribunal that was proposed in the 2002 amendment to the Companies Act was caught in a major legal wrangle amid fears that its structure as proposed by the government flouted the Constitutional separation of powers by vesting essential functions in the quasi-judicial body.
While giving the nod for the setting up NCLT, the SC, however, underlined the importance of maintaining its judicial flavour, and suggested changes in the structure of the tribunal for this.
NCLT would help expedite the approval process for M&As in the private sector, a function of high courts. The tribunal would also allow timely unlocking of the value of distressed corporate assets, as it would take over the process of liquidation of companies, now performed by official liquidators attached to high courts.
According to World Bank, liquidation of assets in India fetches the investor just 16 cents against a dollar invested, whereas the average return is 65-70 cents in Japan and 35-40 cents in most European countries. Further, it takes about 12 years to liquidate a company in India, via the lengthy and cumbersome process involving the BIFR, the appellate authority over it, and the high courts.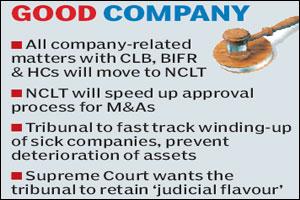 In contrast, most developed countries are able to complete the winding-up of companies 1-3 years.
A
Fe Comment
Balasaheb Patil | 31-Dec-2012
Reply | Forward
As per my expirience sharing with company law Board I do not feel that NCLT or CLB can give justice to the minor sharehodler as most of the appointed members of NCLT are bieng recomeonded by the bigshot company corporates,further thier is no provision in the comapny law for i. e such as 1). For casting and forging of Fake certicates,2). no rules for non payment of proper stamp duties in so many cases the sell/purchaser hides the physical consideration paid for the share transfer,3). some times few transfror have affixed the fake "share tranfer stamps" who is rensponsible for such irregularies? even further in few cases section 198 and 109 did not followed, I have logded coseveral complaints with ROC, MCQ no body wants to take legal action against the company.