Rupee strengthens, breaches 52 mark
fe Bureau: Mumbai, Oct 05 2012, 00:50 IST
Reform measures to boost growth; investment sentiment lifts market mood
The rupee notched big gains for the fifth straight trading session on the back of a strong stock market rally fuelled by foreign investors now upbeat on Indian assets.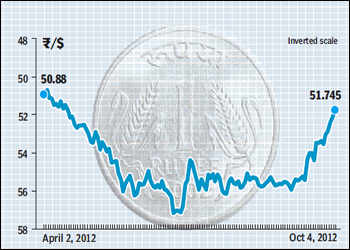 The rupee breached another psychological level of 52/$ on Thursday to close at 51.74/$, a new over five month high. The government's series of measures over the last one month to boost economic growth and investment sentiment have indeed lifted market mood, dealers said.
The rupee's smart rally in the last one week has sent analysts who predicted a more cautious outcome running back to their calculations and revising their forecasts for the currency.
Standard Chartered Bank has revised its December-end rupee forecast to 53/$ from 54.50/$ earlier.
HSBC had already revised its forecast on the rupee to 52/$ last month from around 56/$ earlier. It maintains this forecast now.
Nevertheless, the revised forecasts also suggest a further weakening of the currency.
"In our view, the complex political and weak fundamental backdrop makes rupee gains from here vulnerable to a swift reversal into year-end," Standard Chartered Bank said in a report. The bank expects the rupee to weaken further to 54/$ by end of 2013.
HSBC expects the rupee to trade around 52/$ levels until December, according to Leif Eskesen, chief economist for India and ASEAN.
"But there is more scope for it to strengthen even further. We think with more traction in reforms and the global situation stabilising, by the end of 2013,