Rupee hits 3-month high, up 47 paise on dollar selling
Press Trust of India: Mumbai, Jan 31 2013, 21:35 IST
The rupee on Wednesday shot up by a staggering 47 paise to close at nearly a three-and-a-half- month high of 53.30 on sustained dollar selling amid continued capital inflows, after RBI cut lending rate to boost growth.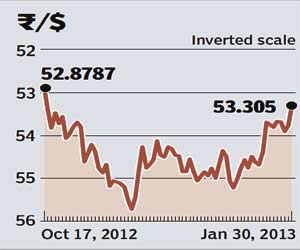 Forex dealers said weakening of the US currency against the euro overseas and a recovery in local equities also favoured the rupee sentiment. The local currency started the day at a firm note at 53.55 from Tuesday's close of 53.77 at the Interbank Foreign Exchange (Forex) market.
It moved in a range of 53.28-53.60 before settling for the day at 53.30, a gain of 47 paise, or 0.87%. Previously, rupee had ended at 52.87 on October 17, 2012.
"Rupee continued its upward movement today mainly buoyed by the rate cut by RBI, which has created some sense of optimism in the markets. Also, exporters are on a dollar selling spree as they are expecting this to be the peak for the local unit," IDBI Head (Treasury) NS Venkatesh said.
The rupee had gained 14 paise on Tuesday, after RBI cut its short-term lending (repo) rate and cash reserve ratio by 0.25%, pumping in a liquidity of R18,000 crore into the system. Venkatesh said a recovery in local stocks and hopes of higher foreign fund inflows also aided the rupee, adding that it will strengthen to 52-level against dollar by March-end. The dollar index was down by 0.24% against a basket of six major currencies ahead of the policy announcement from US Federal and