the call using just the watch and with the help of voice. And that is a wow feature that sort of made me feel a bit like James Bond. The audio quality is not all that good though, especially if there is a lot of ambient noise around. Then you can use the voice controls to create notes and reminders. Actually, the Gear lets you do almost everything that you can with your smartphone. The Pebble is in comparison just a smartwatch.
APPS: The Pebble is a star when it comes to watchfaces and users have the choice to choose hundreds of them depending on your mood, religion or political inclination. It has apps too, but they are mostly third party apps that need to downloaded to the phone first and transferred to the phone. A lot of the apps are limited by the fact that there is no colour screen. The Gear has no such limitations. In fact, its 1.6-inch screen is powered by an 800 MHz Processor and hence it can run a lot of powerful apps. There is already a superb Evernote app, Banjo and MyFitness apps. You can get Line and ChatOn message on your wrist while pedometer and media controller are pre-installed. Plus, the phone (in our case a Galaxy Note 3) and the watch can find each other. All of these worked out of the box and without any hitches.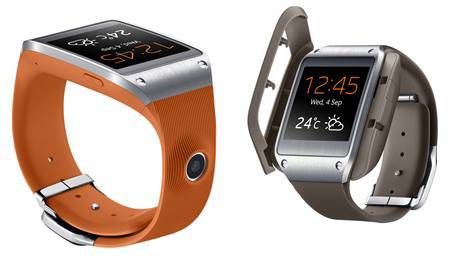 CAMERA: The real differentiator of the Galaxy Gear is the camera 1.9MP camera with auto-focus that creates these amazing photography opportunities we would not have imagined before. The camera and its results, both still and video, are good when you consider it has been shot from a watch. I would have loved to have had a front facing camera to make video chats much more natural.
BATTERY: Built to work like a smartphone, the Gear has a battery life almost similar to those devices. So you will be lucky to get 48 hours on a full charge if you are using this device to its potential. In comparison the