On his first day as RBI governor, Raghuram Rajan said that the central bank would facilitate internationalisation of the rupee and liberalise the capital account over the next few months. Rajan also detailed short-term measures to attract dollars into the country.
"We intend to continue the path of steady liberalisation," said Rajan at a press meet. The RBI will provide a special concessional swap window through which banks can swap the inflows they get in their three-year-and-above foreign currency non-resident deposits.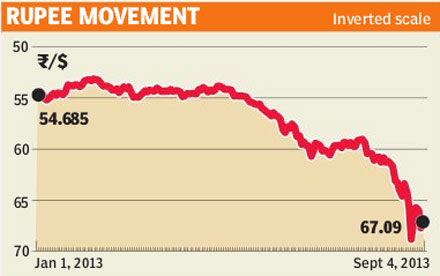 The swap facility would enable banks to hedge foreign currency risk that they bear on such deposits. Banks, therefore, would be more enthused to market and push for FCNR deposits. "The whole agenda is to attract dollars. So, from that point of view, it is good," said a senior official at a foreign bank.
Further, banks can also raise more capital overseas as the central bank has now allowed them to raise funds through forex loans up to 100% of unimpaired Tier-I capital instead of 50% earlier.
Banks can further swap these funds so raised with the RBI at a concessional rate of 100 basis points below the prevailing swap rate in the market, Rajan said.
Rajan also gave relief to exporters and importers hit by the rupee's sharp swings off late. The central bank will now allow importers to rebook forward dollar/rupee contracts up to 25% of the cancelled contract while exporters can do the same for an enhanced 50%.
To make rupee an international currency, Rajan said that the RBI would push for more settlement in rupees as trade expands. The capital account will also be liberalised but in a measured manner. Rajan indicated that the RBI doesn't intend to micromanage financial markets through restrictions on positioning and investments. In fact, it would liberalise financial markets further.
"We cannot create depth by banning position taking, or mandating trading based only on well-defined legitimate needs," Rajan said.
He added that measures to liberalise financial markets would be cautious and measured. "Better that investors take positions domestically and provide depth and profits to our economy than they take our markets