Pool more for CDR, promoters told
Pranav Nambiar: Mumbai, Nov 23 2012, 02:12 IST
Even before the Reserve Bank of India (RBI) tightens norms for restructuring, bankers will insist on a higher promoter contribution for loan recasts of at least 25% of the diminution in the fair value of any loan that is recast.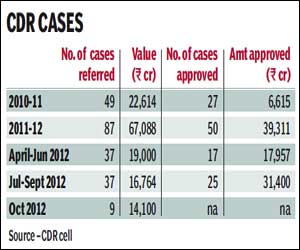 A meeting of the core group of the corporate debt restructuring cell (CDR) cell that meets on December 5 will ratify the decision. The limit is is being raised from 15% of the diminution in the fair value. The RBI panel on loan restructuring led by executive director B Mahaptra, has recommended promoters must make good 15% of fall in fair value or 2% of restructured amount, whichever is higher.
Bankers will also seek to limit the conversion of the loans into share instruments like optionally convertible cumulative preference shares to 10% of the outstanding loan amount. The meeting of the core group to review the restructuring norms of CDR cell comes ahead of the RBI announcing the draft guidelines on loan restructuring that is expected at the end of January. The meeting will discuss changes in CDR policies as directed by the ministry of finance and RBI, some of which are expected to make restructuring norms more stringent, particularly for promoters.
The core group of CDR cell includes the chairman and managing directors (CMDs) of the public sector banks —State Bank of India, Bank of Baroda, Bank of India, Punjab National Bank and IDBI Bank. It also includes the MD& CEO of ICICI Bank and the chief executive