The National Spot Exchange (NSEL), which is struggling to recover dues from its members, is believed to have suggested to brokers and investors that they take a haircut of of Rs 1,100 crore — or close to 20% of the total outstanding of Rs 5,573 crore.
While no formal proposal along these lines has been made by the exchange, persons familiar with the development said the option was discussed during the course of the meeting between NSEL officials and investors that went on till late on Thursday night.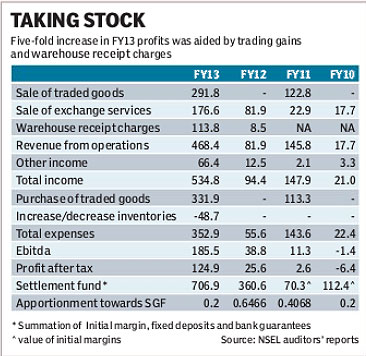 "Several different proposals were discussed by both sides but we failed to arrive at a conclusive decision. We have formed a smaller group to discuss options with the exchange," said Sharad Saraf, convenor of the NSEL Investors' Forum.
However, another investor, Harsh Dalmia, said that the option of a haircut was not acceptable. "Jignesh Shah proposed to the forum that we give up Rs 1,100 crore of dues, which the investors and brokers vehemently rejected," said Dalmia, director of the Mumbai-based Watermark Financial Consultants and a member of the NSEL Investors' Forum. An NSEL spokesperson did not respond to a query sent regarding this issue.
The investor association is now preparing to initiate legal action against the exchange and also the nine members declared as defaulters by the bourse. Members of the recently-formed association said that they could file a first information report (FIR) and also a writ petition in the Bombay High Court as early as Monday.
On Thursday, NSEL declared nine entities that failed to fulfil their pay-in obligations last week as defaulters.
According to a list put out by the exchange on August 16, these nine members accounted for dues of Rs 3,135. 29 crore of the total outstanding of Rs 5,572.75 crore.
The list of defaulters comprises ARK Imports, Loil Overseas Foods, Lotus Refineries, N K Proteins, NCS Sugars, Spin Cot Textiles, Tavishi Enterprises, Vimladevi Agrotech and Yathuri Associates. "The defaulters shall hand over all their books, documents, assets and cheques and other documents as specified by the exchange. Such strict action against defaulting members may ensure that other