Flows into the non-resident Indian (NRI) deposit portfolio of Indian banks fell 10% year-on-year at the end of the April-July period and stood at $ 6.66 billion. Non-resident external (NRE) rupee deposits showed a significant reduction in flows during the four-month period, falling to $6.45 billion from $8.45 billion last year.
According to data collated by the Reserve Bank of India, outstanding NRI deposits stood at nearly $73 billion as on July 31. Of this, $48.63 billion came through the NRE route while $8.96 billion came through the non-resident ordinary (NRO) rupee deposits, RBI data showed. As on July 31 2012, the outstanding NRI deposits were $62.45 billion.
Leveraged NRIs on returns trip may fuel FCNR inflows
"Last year, the higher rates on NRI deposits was a new thing and they were coming in heavily. Moreover, since the rupee was extremely volatile in the July-August period, NRIs were waiting for an acceptable level to deposit money," said A Surendran, head-retail and international banking, Federal Bank.
NRI deposits: RBI to subsidise banks
In the first five months of this financial year, Federal Bank had seen 20% growth in NRI deposits, Surendran confirmed.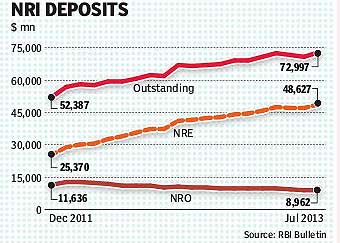 In the quarter ended June 30, Federal Bank reported a 51% year-on-year rise in NRE deposits to R15,108 crore while NRI deposits clocked growth of 32% year on year to R17,000 crore over the same period.
In case of India's biggest bank, State Bank of India (SBI), outstanding NRI deposits as on June 30 stood at R84,943 crore, of which R54,912 crore came through the non-resident external (NRE) rupee account route, Dipankar Purkayastha, general manager (personal banking business unit), had said.
Outstanding foreign currency non-resident (FCNR) deposits were steady at $15 billion, as on July 31. The FCNR route is expected to garner more deposits as banks try and woo more customers to invest further, now that the RBI has made the product viable for banks.
VR Iyer, chairperson and managing director at Bank of India, hopes that her bank will be able to raise at least $50 million through the FCNR window.
Dena Bank