Non-food credit grows 16%
fe Bureau: Mumbai, Feb 07 2013, 01:12 IST
Non-food credit rose at a modest pace of 15.83% year-on-year (y-o-y) to R49,45,526 crore for the fortnight ended January 25, data from Reserve Bank of India (RBI) show. The growth was 37 basis points lower than 16.2% y-o-y growth recorded in the previous fortnight. Since April 2012, credit has grown by 6.93% compared with a more robust 9% plus in the corresponding period of 2011-12. At the review of monetary policy, RBI had cut credit growth projection for FY13 by one percentage point to 16%.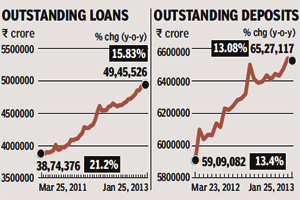 "Loan demand from new projects is still not there, but demand for loans from companies for working capital and refinancing should be better in the fourth quarter," said Sudhir Kumar Jain, the executive director of Bank of Baroda. Since loan demand from companies are muted, most banks are trying to increase the size of retail portfolios.
Meanwhile, bank deposit growth was lacklustre at 13.08% year-on-year (y-o-y) to R65,27,117 crore in the fortnight ended January 25, according to RBI data. The latest data show the total deposits in the banking system shrank slightly by R11,478 crore, or 0.18% compared with the fortnight ended January 11. Since April 2012, deposit growth has been 6.78%, according to the latest data. Bankers said deposits may be hard to come by since high inflation has eroded real returns for depositors and prompted them to invest in gold and real estate.
"Unless inflation comes down, deposit growth will not improve and seeing this problem, RBI had cut its cash reserve