Indian stock exchanges might not need to list themselves after all. This is one of the key recommendations likely to be approved by the Bimal Jalan committee set up in February this year by the Securities and Exchange Board of India (Sebi). The six-member committee, which is reviewing the ownership structure and corporate governance issues of market infrastructure institutions, is likely to submit its recommendations shortly.
The committee's recommendation will mean the two leading equity exchanges, NSE and BSE can remain unlisted, even as they will be prescribed stiff norms to ensure transparency in their functioning. The recommendation could mean an end to a decade of policy discussions on the way the domestic stock exchanges could run themselves efficiently and maximise returns for investors in stock markets.
This will, however, run counter to the pattern of large global exchanges like the London Stock Exchange, NYSE, and even Australian and Singapore stock exchanges which are listed in their own exchanges. While only 17% of the world exchanges are listed, listed exchanges constituted 77% of global equity turnover in 2005, finds the report released in January 2010 by Ruben Lee, CEO and founder of Oxford Finance Group.
All listed exchanges in the word are for-profit entities, which pose a difficult challenge in straddling the dual roles of for-profit objective and performing the public function of stock exchanges. This is because self-listed exchanges could face issues in compliance matters or in detection of price manipulation by entities who may also have management roles in the exchange.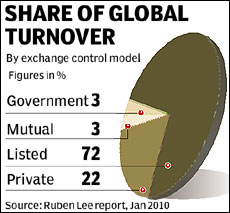 Moreover, according to an official familiar with the development, the committee may also recommend continuing with ownership norms in related entities of the exchanges. According to current Sebi regulations governing depositories, the sponsor shall, at all times, hold at least 51% of the equity share capital of the depository. And no person other than a sponsor, whether resident in India or not, shall at any time, either individually or together with persons acting in concert, hold more than 5% of the equity share capital. While BSE has a stake in CSDL and in CAMS,