NMDC shares have bounced 15% from recent lows. Media news flow is about a potential cut in NMDC Ltd's Karnataka volumes on potential CEC (central empowered committee) limitation of mining capacity. This is not new news and has been going around for some time. In our view, the possibility of quantity cut (from 9mt to 6mt) is low. Even if such a move were to take place, we expect auction iron ore prices to move up in Karnataka, offsetting a large part of the hit from lower volumes.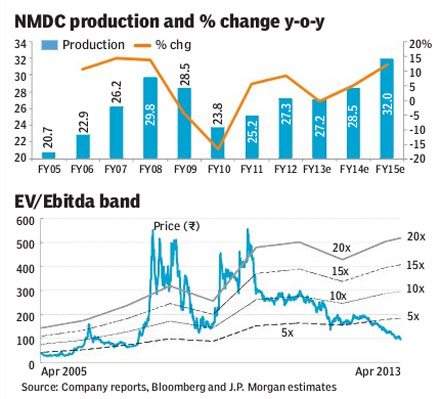 Recent Indian rupee weakness is positive for NMDC's export volumes, and given the currency depreciation, we expect export duty to reduce. NMDC at 2x (times) FY15e EV/Ebitda (enterprise value/ earnings before interest, taxes, depreciation and amortisation) with 8% yield continues to offer attractive risk reward.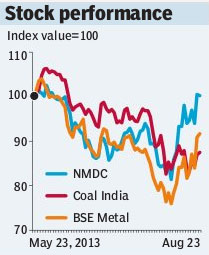 In our view, any reduction of NMDC's Karnataka volumes from 9mt to 6mt (driven by CEC potentially capping production) would impact NMDC's FY14e Ebitda by 7% and EPS (earnings per share) by 5%. However, this ignores the benefit from any iron ore price increase the move would have on Karnataka's iron ore market. We estimate that a R500/tonne price increase would offset half of the volume impact. Given that most of the miners have not yet been able to ramp up volumes in Karnataka, we see little logic of CEC capping NMDC's production as it would have a negative impact on steel production in the state.
Spot iron ore prices have been stronger and the stock has not fully reacted to the iron ore price move. In our view, the domestic iron ore price cut cycle is broadly over. Domestic steel prices have been inching up and large price cuts are unlikely from here.
Valuation
We are Overweight on NMDC with a March-14 price target of Rs 160. We value NMDC at 5x FY15e EV/Ebitda, a 20% discount to global peers given (i) the lack of clarity on a consistent pricing policy; (ii) high export taxes in India which limit NMDC from getting global iron ore prices.