Night belongs to Paan Singh Tomar, Barfi!, Kahaani
Shubhra Gupta : Mumbai, Jan 12 2013, 18:31 IST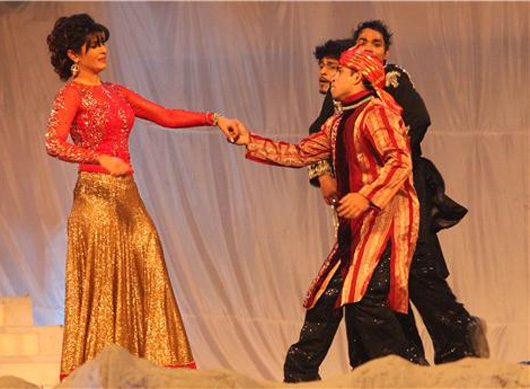 Priyanka Chopra rose up dramatically in the air seated in an imaginatively constructed Ganpati and showered the delighted audience with shiny bits of confetti. John Abraham wheeled by and caused a furore. The stunning Rekha voiced a Gulzar nazm as a tribute to the late Yash Chopra. Karan Johar sportingly danced along with his young proteges. Amitabh Bachchan cast a spell when he went up to accept a tribute to him. And master of ceremonies Shah Rukh Khan revved up the energy like only he can.
19th Annual Colors Screen Awards: Winners
19th Annual Colors Screen Awards: Red Carpet
19th Annual Colors Screen Awards: Performances
As curtains went up on the 19th Colors Screen Awards at Mumbai's Bandra Kurla Complex Saturday, the evening glittered with stars in the sky and stars on the ground. Nothing shone brighter than Bollywood though — honoured at the awards for an year in which, in the words of Shah Rukh Khan, it became bigger.
2012 indeed saw the small film become big, and the big film become bigger. It was the year a pregnant woman was the hero of a mainstream Hindi film and a middle-aged mother was brought centrestage. It was the year 100 crores became the benchmark for box office success while the most unusual relationship between a deaf mute young man and an autistic young woman touched our hearts. And above all, it was the year when story became the undisputed king.
The list of Colours Screen