Nashik onion traders call off strike
fe Bureau: New Delhi, Jan 11 2011, 01:36 IST
Amidst reports of withdrawal of the proposed two-day strike by onion traders in Nashik, the hub of country's onion trade, retail prices of the commodity continued to be high despite best efforts of the government.
Onion prices skyrocketed on December 20 to an all-time high of Rs 70-85 per kg in major cities as a result of damage to kharif crops in Maharashtra due to rains. High prices had forced the government to ban exports and place import orders from Pakistan.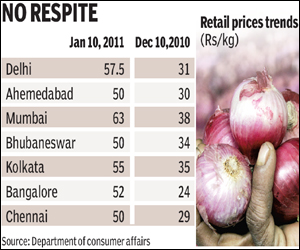 Nashik onion traders, who started their strike early on Monday, later called off the agitation after assurance from the state government that they would not forced to sell the key vegetable below the cost price.
The traders across most of the 40 wholesale mandis in Nashik had decided not to purchase onions for two days from Agricultural Produce Market Committees (APMCs) to protest against the Maharashtra government's directive that onions should not be sold over Rs 30 per kg and also to protest against the recent I-T raids.
The mandis in Nasik get more than 8,000 tonne of the commodity daily which is then supplied to key metros.
However, the Navi Mumbai wholesale market on Monday saw increase in number of trucks arrivals which pushed down the wholesale prices to Rs 2,500 per quintal from Rs 3,000 per quintal prevailed a week back.
"At present, the prices are expected to go up furthers as the late arrival of kharif crops into market would commence in