The four-member committee set up by Amfi to look into the standardisation of colour coding for mutual fund products is not in favour of tinkering with the existing scheme of assigning colour codes to MF schemes.
"The sub-committee looked at various parameters, primarily revolving around risk, to make colour coding uniform. But since the whole idea of Sebi is to keep it simple, it seems that there won't be any changes made to the original guidelines after all," said a person familiar with the matter.
Added another official: "The sub-committee appointed to look into the standardisation has almost completed its work on this and will be sending its proposal to Sebi in a week's time or so."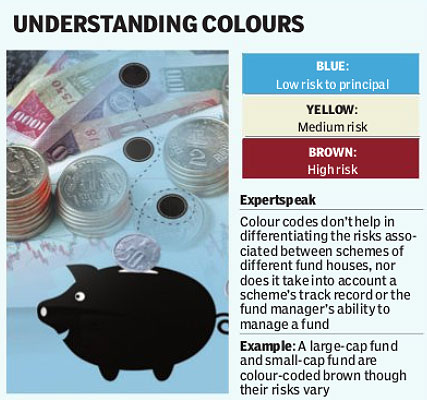 Sources said the committee was initially looking at standardizing colour codes based on the risk parameters associated with each scheme but eventually felt that it was too early to tweak colour code norms at this juncture.
In its present avatar, fund houses mostly use the colour blue for debt schemes, brown for equity schemes and yellow for hybrid schemes. Some fund houses, however, use their discretion to label the same products differently.
For instance, one fund house could label an income fund blue, implying low risk, while another could label it yellow, implying medium risk.
The standard guidelines would have done away with this practice and helped to create standard rules for giving colour codes based on the risk associated with the individual schemes.
In August, market regulator Sebi had written to mutual fund industry body Amfi, asking it to come up with standard guidelines prescribing certain parameters for product labelling to ensure the same product is not labelled differently by different fund houses.
Sebi's concern was that different colour codes used for similar schemes could create confusion in the minds of investors.
MF houses have started labelling their schemes from July 1.