MFs to test waters in smaller cities with outsourcing model
Ashley Coutinho: Mumbai, Sep 01 2012, 21:22 IST
Fund houses are likely to focus on the outsourced distribution model in their efforts to reach out to customers beyond the top 15 cities. The aim will be to minimise costs as they test the viability of selling mutual fund products in smaller cities.
"For a start, fund houses are likely to focus on strengthening the outsourced distribution model, which already prevails in some form or the other," said Debasish Mallick, MD & CEO, IDBI Asset Management. This model might include using the services of small IFAs or sub agents of the bigger IFAs, besides individual agents and authorised reps (ARs).
"Fund houses are likely to use a mix of branch network and authorised representatives to make their presence felt beyond the top 15 cities," said Jimmy Patel, CEO, Quantum Mutual Fund. These ARs may not be on the rolls of the company, but are likely to exclusively sell their products. Firms are likely to use the hub and spoke model rather than going on an overdrive to set up physical branches. AMCs may also make use of agents, who may be CA firms or those selling insurance products.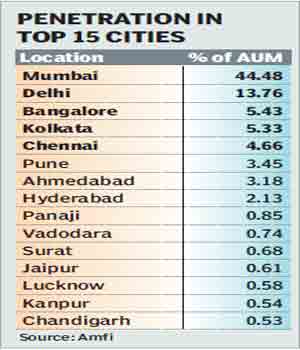 Market regulator Sebi, in its recent guidelines, had said that it would simplify the distributors' registration process and allow postal agents, retired bank and government officials and retired teachers to distribute simple products. Experts believe that fund houses will be keen on tapping these persons to push the MF products.
Firms with a pan-India presence will have