Equity indices plunged to near two-month lows on Thursday as global markets nose-dived on concerns related to the continuance of quantitative easing in the US, which, along with the European Union, is battling disappointing economic data.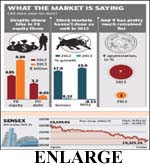 Benchmark indices posted their biggest single-day fall in nearly seven months even though foreign institutional investors bought shares worth over $220 million, taking the year-to-date tally to over $8.1 billion. The Sensex slid 1.62% or 317.39 points to close at 19,325.36, while the broader Nifty declined 1.53% or 90.80 points to settle at 5,852.25 points. The broader markets also witnessed a sharp correction, with the BSE Mid-Cap and Small-Cap indices losing nearly 1.7% each.
Even before Thursday's fall, the markets had been weak despite FII flows being double the levels seen in the corresponding period of 2012 (see graph). The Sensex has barely budged this year compared to the sharp move of 18% seen in 2012.
Asian indices like Japan's Nikkei, Hong Kong's Hang Seng, China's Shanghai Composite and South Korea's Kospi lost 1-3% on similar concerns of liquidity tightening in the US and China. Most European indices such as the UK's FTSE 100, France's CAC 40 and Germany's DAX were down nearly 2% at the time of going to press.
The markets turned jittery as minutes from the US Federal Open Market Committee meeting revealed that "many" members were concerned about the costs and risks of further asset purchases. Further, US housing starts for the month of January fell sharply below expectations. In Europe, services and manufacturing contracted in February at a much faster rate than expected.
Analysts stated that it was a bad day for global equities and investors needed a reason to correct. "I am a little less worried about the US Fed minutes. The US markets came off five-year highs and there is nothing bad about a healthy correction. The same is true for the Indian markets. We have had a great run from September to January and we do not foresee any change in fundamentals. We do not hear any alarm bells are not ringing as of