The panic in the equity market, triggered by a weakening rupee and concerns over a possible pullback in the quantitative easing programme by the US Fed Reserve, has dented the market capitalisation (m-cap) of some of the most valuable entities on the National Stock Exchange (NSE) in August.
Thirty-eight companies in the 50-share Nifty basket — comprising three-fourth of the index — have seen their m-cap fall between 0.16 and 20% in August. Asian Paints has lost 17.68% of its market value in August, the most among Nifty firms. At the close of trading session on Friday, the paint manufacturer's m-cap stood at R40,080 crore against R48,688 crore in the beginning of the month. Bank of Baroda (-16.85%), ACC Ltd (-16.47%), Larsen & Toubro (-13.65%) and Sun Pharmaceuticals (-11.07%) were among the other major losers.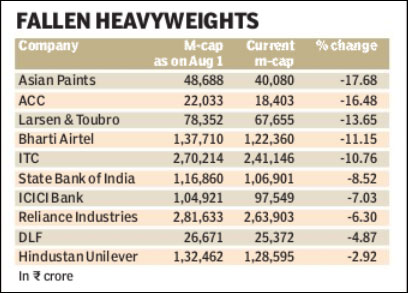 Experts feel the companies would remain under stress. "Nifty can fall to 5,000 levels going forward. The selloff from overseas institutions can pull down markets as FII ownership is at its highest level in the current year. Also, the government's disinvestment plans remain an overhang for certain stocks. Apart from this, the threat of contracting valuation multiples and earnings per share (EPS) can take certain stocks even below their fair values," said Amar Ambani, head (research), IIFL. On Friday, the Nifty closed at 5,471, down 7.34% in the current calendar year and 4.71% in August .
Foreign brokerages, who closely track the performance of blue chips, have recently downgraded the Indian markets as they expect further headwinds. US brokerage Goldman Sachs has cut its Nifty target to 6,200. The Swiss-based investment banking major UBS also expects Nifty to trade in a lower range. "We have revised our Nifty trading range downwards to 5,250-6,100 from 5,500-6,400, as market sentiment has taken a big beating," it said in a note.
However, domestic institutional players are of the view that certain blue chips can be attractive in terms of valuations. "Certain stocks are seeing support in terms of valuations