Market momentum wanes as number of stocks touching 52-week highs falls
Devangi Gandhi: Mumbai, Feb 05 2013, 00:13 IST
A lower number of stocks accounted for market gains during the last one-month. While the benchmark indices moved towards their fresh two-year highs, the number of BSE 500 stocks that touched their respective 52-week highs consistently dwindled in the last one month. Generally, this number observes a sustained increase when the market prolongs its upward trajectory as rising number of stocks participate in the rally.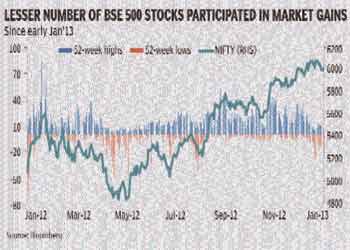 Hence, the latest divergence raises doubts about the market's momentum; the number of Nifty constituents trading above their long-term averages (200 DMA) also saw a decline in the last week.
According to market observers, even as large caps continue to see investor interest, the sharp declines in stocks from the mid-cap and small-cap spaces in the last two weeks have affected the broader market performance.
"The market breath is affected by the plunge in stocks of smaller companies. Though some of the front-line stocks have also dipped, Nifty is seen holding on to 6,000-5,940 levels for a comeback rally," said a trader.
At the end of January 2013, while the 30-share Sensex and broader Nifty both clocked in gains of about 2%, BSE's sectoral indices on mid-cap and small-cap companies declined 2% and 4%, respectively, after the traders shunned these stocks due to concerns related to their financials and higher debt.
According to Bloomberg data, on an average, 17 stocks hit their 52-week highs in January 2013, down from an average of 24 stocks in December 2012. Further, in the last two weeks, this mean fell