June WPI inflation seen at 6-mth high of 7.6%
Raj Kumar Ray: New Delhi, Jul 13 2012, 00:54 IST
India's annual headline inflation likely inched up to its highest in six months at 7.6% in June from 7.55% in May, posing a challenge for policymakers to address the twin problems of a slow industrial growth and price pressures, according to an FE poll of 13 economists.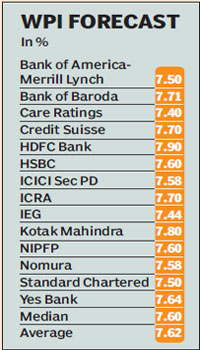 Economists say food prices have risen even as fuels and manufactured may remain flat as softening of global commodity prices was offset by a rupee depreciation. With inflation staying elevated, most analysts ruled out rate cuts by the Reserve Bank of India at its next policy review on July 31. The poll shows the forecast for wholesale price index-based inflation ranging from 7.4% to 7.9%.
If the actual data scheduled on Monday matches the median forecast of 7.6%, it would be highest since December when the WPI inflation printed at 7.74%.
"The headline inflation will remain elevated in June due to food prices. The core or non-food manufacturing inflation may remain between 4.5-5%," said DK Joshi, chief economist of Crisil.
Food inflation is expected to rise after deficient monsoon so far this year and increase in minimum support prices. With an irrigated land area of 36% and half of labourers engaged in agriculture, Citi economist Rohini Malkani said the Indian economy is not yet "water-proof". "A poor monsoon would impact prices more than growth," she said in a research note.
While estimating that a below normal monsoons could shave 50-80 bps off growth to 5.6-6% in 2012-13, Citi said the impact on inflation is