IPO listings for first 9 months of 2012 lowest since 2003
Ankit Doshi: Mumbai, Sep 22 2012, 00:00 IST
Primary market offerings by way of initial public offerings (IPOs) in the first nine months of calendar year 2012 are at their lowest levels since 2003.
According to exchange data, just seven companies listed their IPOs this year, with two firms, Plastene India and Samvardhana Motherson Finance, withdrawing their offerings due to poor response. "Many large investments are pending and saying 'let's wait' because there is lack of clarity on government stability and its stance on reforms. Valuations are a concern too," said Shripal Shah, director, Aryaman Financial Services.
Shah said that companies in the infrastructure, metals and mining, and energy spaces are eager to tap the primary market, but valuation concerns are proving to be a deterrent. "Secondary markets are still under-priced. We have seen a sharp rise in Indian equities of late, but confidence in the secondary market will take some time to restore," Shah added.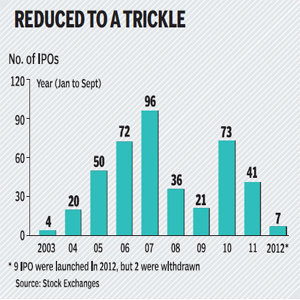 According to Prime Database, 69 companies have seen their Sebi approval expire since 2009 as unattractive valuations and poor macro-economic conditions hurt retail investor participation. These include companies such as Jindal Power, which planned to raise R7,200 crore, Reliance Infratel (R5,000 crore), Lodha Developers (R2,790 crore), Sterlite Energy (R5,100 crore) and Hindustan Copper FPO (R4,000 crore). Sebi approvals are valid for one year.
"Primary markets have been in a lull for the last 3-4 years and the confidence is low because many issues, which got listed, are trading at a discount to the issue price," said an official at Prabudas