The iPhone 5C marks a departure from Apple Inc's focus on purely premium phones, but not as much as some expected. It has proved pricier than expected and is, in fact, a trimmed-down version of the iPhone 5 launched a year back. To add to the heartburn among Indian customers, there is no mention as to when it will be made available here
Come September and gadget lovers (die-hard Apple fans in particular) from around the world wait to hear on what's new from the Apple headquarters in Cupertino, about 45 miles south of San Francisco. Last Tuesday, Apple launched two new iPhones: the iPhone 5s and the iPhone 5C. Apple fans in the country are, however, a disenchanted lot; they rue the non-availability of the company's latest gizmos here. There is no mention as to when both the devices will be made available in India, one of the major reasons why Apple's market share has always been in the range of 2-3% in the country, in terms of unit shipments. For early adopters, the only choice is to get them from abroad, or procure them from the grey market.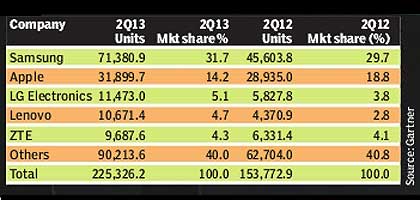 First, a look at the two announcements. To be fair to Apple, the company has always designed some of the best smartphones in the world. Its iPhone 5s sets a new standard for smartphones with its new 64-bit A7 processor, which promises to provide blazing-fast performance when launching apps, editing photos, or playing graphic-intensive games. It also features an all-new 8-megapixel iSight camera and introduces the Touch ID fingerprint sensor, which allows you to securely unlock your phone with the touch of your finger.
But it is the 'affordable' iPhone 5C series that has raised eyebrows in industry circles. By and large, there has been disappointment starting from the price to many other features of this so-called most colourful iPhone yet, in five colours—blue, green, pink, yellow, and white. "While iPhone 5s has some new features that will catch consumers' eyes, the much-awaited smartphone for emerging markets, 5C is a definite disappointment on the pricing