ING Life targets 30% rise in India income
Debojyoti Ghosh: Bangalore, Aug 14 2010, 22:44 IST
ING Life India, a part of the ING Group, is targeting an ambitious 30% growth in business income during the current fiscal. The company also aims at growing its total premium income by 20% over the last year. For this, it plans to hire 1,000 sales managers this year.
"We are targeting a top line growth twice the pace of the industry," said Kshitij Jain, chief executive & managing director, ING Life India. The company is entering into its 10th year of operations in India. According to reports, the insurance industry in India is expected to grow at around 12-16% in the next five years. In terms of weighted individual premium, the current size of the market is estimated at Rs 55,073 crore.
To fuel its expansion plans, the insurance company raised fresh capital of Rs 237.4 crore last month. It received Rs 118.7 crore from its major shareholder Exide Industries and Rs 61.7 crore from ING Group while the rest was contributed by other shareholders. Jain expects the next phase of growth to come from expanding its current distribution network and increasing efficiency and productivity.
ING Life India is present across 232 cities with over 55,000 agents. During 2009-10, about 50% of the company's business came from traditional products.
"Going forward, we will focus on long-term protection plan and savings-oriented portfolio. In the last five months, 60% of our business has come from non-unit linked products," said Jain.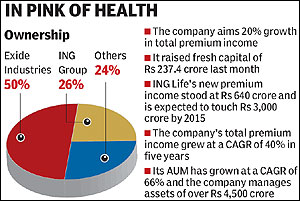 Last year, ING Life's income from new