The Indian rupee today collapsed to a lifetime low of 68.85 against the US dollar and closed at 68.80, registering its biggest single-day loss of 256 paise, as global oil prices jumped, deepening concerns about the current account deficit and capital outflows.
Consistent dollar demand from banks and importers, mainly oil refiners, following higher crude oil prices, kept the Indian rupee under pressure.
At the interbank foreign exchange market, the Indian rupee opened at 66.90 a US dollar against 66.24 previously and dropped to 68.75 in late morning deals. It recovered some ground in the afternoon after the central bank was said to have intervened but dropped to an all-time intra-day low of 68.85 before ending at 68.80, a fall of 256 paise or 3.86 per cent.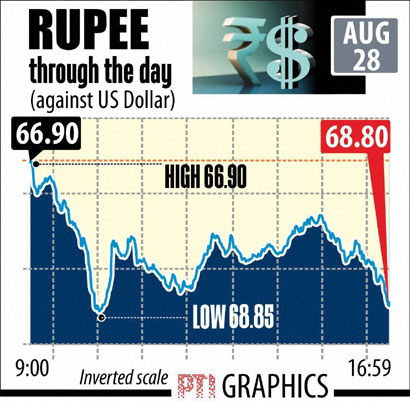 In three trading days in a row, the Indian rupee has lost 560 paise, or 8.86 per cent, against the dollar. So far in August, it has tanked by 840 paise, or about 14 per cent, and in the current year by 1,381 paise or over 25 per cent.
"There is a shortage of dollars in the market as participants are expecting the rupee to fall to 70-72 level," said Naveen Raghuvanshi, associate vice-president at Development Credit Bank. "Even corporates are not willing to sell dollars at these levels. Whatever small supply of dollars is seen today, it is coming from the nationalised banks."
Oil prices climbed on fears a military strike against Syria for alleged use of chemical weapons against civilians would disrupt crude supplies from West Asia. Higher oil prices and a declining rupee are a double whammy for India, which imports 80 per cent of its crude needs.
The dollar strengthened overseas on likely tapering of bond buying by the US Federal Reserve from next month, putting pressure on the rupee. Sentiment was also hurt by increased capital outflows and fears of a rising subsidy burden with the passage of the Food Security Bill.
The benchmark S&P Sensex, which was down by 519 points in late morning deals, recovered and closed up by 28 points.
The Finance Ministry today described the