The Indian rupee trimmed its initial gains against the US dollar, but was still quoted higher by 116 paise to 67.64 per dollar in the afternoon trade at the Interbank Foreign Exchange market on fresh selling of the US currency by exporters and banks amid fresh measures announced by the Reserve Bank of India (RBI) to check free-fall of the currency.
The battered rupee recovered after the Reserve Bank of India (RBI) yesterday said it has started a facility to meet the daily dollar requirement of the country's three state-run refiners.
The rupee resumed higher at 66.90 per dollar as against the previous closing level of 68.80 per dollar at the Interbank Foeign Exchange (Foerx) Market and firmed up further to a high of 66.85 per dollar.
However, the partially convertible rupee trimmed its initial gains and was quoted at 67.64 per dollar at 12.30 am, up 116 paise or 1.69 per cent stronger than its close of 68.80/81 on Wednesday, when it hit a record low of 68.85. The rupee rose as high as 66.85 per dollar shortly after the opening.
The benchmark 10-year bond yield also gained tracking the rupee, with the yield falling as much as 21 basis points to 8.75 per cent.
Fiscal brinkmanship: Open-door policy to be blamed for rupee woes
The rupee closed at 68.80/81 after dropping 3.7 per cent on the day to hit a record low of 68.85, in its biggest single-day percentage fall since October 1995.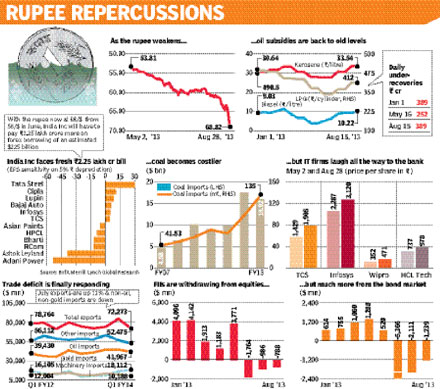 Besides, the dollar selling by exporters and banks, fresh measures announced by the RBI to curb the rupee's slide and fall in crude prices in the global market, helped domestic currency to rebound, forex dealers said.
They said a higher opening in the equity market also supported the recovery in the rupee, they said.
RBI has decided to open a special window to help the three state-owned oil marketing companies, which need about USD 8.5 billion every month, to meet their daily foreign exchange requirement in a bid to check the rupee's free fall.