The Indian rupee on Friday plunged to lifetime low of 62.03 before recovering to close at a record low of 61.65 against the dollar as local stocks crashed amid fears the RBI's curbs on forex outflows would lead to a return of capital controls.
Will not allow free fall of Indian rupee, will check CAD: P. Chidambaram
Dealers also said better-than-expected US economic data led to increasing concern that the Federal Reserve may start easing its stimulus programme as early as next month, which may prompt FIIs to pull out from the local markets. Jobless claims for the week ending August 10 dropped to the lowest since 2007, helping dollar rise against most currencies.
In name of saving Indian rupee, RBI brings controls back
The Indian rupee opened higher at 61.35 a dollar from the previous close of 61.43 and climbed to a high of 61.32 at the Interbank Foreign Exchange Market. As domestic stocks declined, the rupee fell to an all-time low of 62.03. The currency recovered some ground and closed at 61.65, a fall of 22 paise or 0.36 per cent.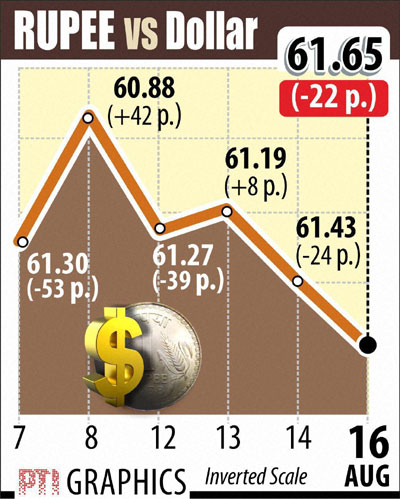 To restrict the outflow of foreign currency, the RBI had on August 14 announced stern measures, including curbs on Indian firms investing abroad and on outward remittances by resident Indians. Seeking to calm rattled investors, the government and the RBI on Friday said there was no reverting to a capital control regime.
"It's difficult to understand whether RBI intervened today," said Ashutosh Raina, head of forex trading at HDFC Bank. "More than the fear of capital controls hitting the rupee, it was the spillover effect of Indian stocks nosediving that pulled down the rupee so much."
Sustained dollar demand from importers, mainly oil refiners, and some banks amid a firm dollar overseas also weighed on the rupee, a forex dealer said.
"Panic in stock market cast a shadow on rupee. It recovered as exporters sold dollars at 61.90-62 levels," said Harihar Krishnamoorthy, Treasurer at FirstRand Bank.
The benchmark S&P BSE Sensex today tanked by 769 points. Foreign institutional investors withdrew a net Rs