Indian markets lead Asian rally
fe Bureau: Mumbai, Nov 30 2012, 01:08 IST
Despite sustained macroeconomic headwinds and concerns about the government's progress on the reform agenda, Indian benchmarks have emerged first runner-ups among their Asian counterparts in the year so far.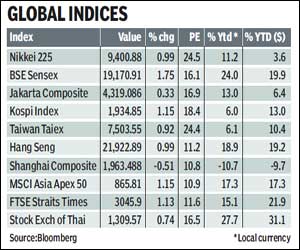 Following a more than 3% rally in the last three trading sessions, both the 30-share Sensex and the 50-share Nifty, with their year-to-date gains at 26-25%, are the second best performing Asian indices after Thailand's SET, which has yielded 27.7% till Thursday.
Both Indian indices rallied 328.83 and 97.55 points to close at 19,170.91 and 5,825, respectively, their highest in nearly 19 months after Goldman Sachs upgraded its outlook on Indian stocks.
Goldman Sachs' upgrade largely encapsulates the weighting upgrades of the Indian market by leading foreign brokerages.
Goldman raised its recommendation on Indian stocks on Thursday to 'overweight' citing growth recovery and easing of inflation after its counterparts, including JP Morgan, Morgan Stanley and Deutsche Bank, upgraded their outlook on the Indian market since June 2012.
Even among global peers, India ranks as one of the best-performing markets with the major European indices gaining 5-15% in the period, except for Germany's DAX that has also rallied more than 25%. Leading US indices, including the S&P 500 and Dow Jones, have advanced 6-12 % during the year so far.
Interestingly, the Indian market has clearly outdone its Chinese counterpart. While India remained one of the leading markets of the year, China's Shanghai Composite is the worst performer, having lost more than 9% during the year. The Chinese index fell to its lowest since