Falling Asian currencies have triggered a sell-off in bonds and equities. Some investors now fear a repeat of a 1997-style crisis. Yet while a new Breakingviews' interactive risk map shows no economy in the Asia-Pacific region is entirely sober, it is India that has become most addicted to cheap money.
The risk map ranks the region's economies according to eight vulnerabilities by measuring the deterioration since just before the onset of the global financial crisis. The most pressing concern for investors is the region's worsening trade balance.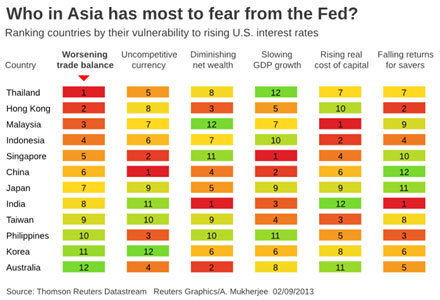 India and Indonesia, whose current accounts are in deficit, have predictably suffered big drops in their currencies. But the analysis reveals that trade surpluses of Thailand, Hong Kong and Malaysia have narrowed even more since the second half of 2007. However, this is partly because Thailand and Malaysia have boosted domestic investment, which lifts imports.
A shrinking trade surplus won't cause a crisis if countries can still sell debt and equity to foreigners. This is where India's diminishing net wealth makes it uniquely handicapped. India was a debtor nation even in 2007, and since then, foreigners have acquired another 8 percentage points of GDP in net claims on Indian assets. Understandably, they aren't keen on more. By contrast, all other Asia-Pacific nations have increased net wealth since 2007.
For Singapore and China, where GDP growth has weakened even more than it has in India, a bigger headache is the outsized expansion in private sector credit. Additionally, China's real exchange rate has shot up the most in Asia, making exports less competitive - though that is part of an intended shift toward domestic consumption.
Malaysian and Indonesian companies are grappling with a margin squeeze: The two commodity-producing economies have witnessed the biggest rise in their real cost of capital. The Philippines has the opposite problem: Falling inflation-adjusted returns for savers. This should worry Manila, which is basking in the warm glow of 7.5 percent growth. India has repressed savers for years in the hope that an interest-rate subsidy for borrowers would help keep growth rates high. The misadventure saw the banking