Long growth push-up, easier liquidity & rates provide for a cyclical upside
We re-initiate our coverage of HDFC, with a Buy rating and a target price of Rs 860. It offers exposure to the high growth mortgage market in India and to market leadership through its associates and subsidiary companies in commercial banking, life insurance and asset management. We believe HDFC is in a sweet spot strategically, structurally and cyclically.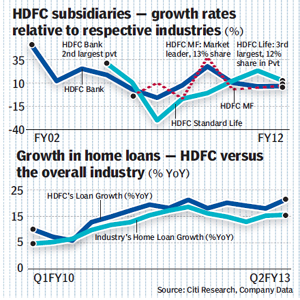 Strategically, its subsidiaries have started generating and returning increased capital, which could see HDFC increasing its growth rates and payouts, and potentially even buying new businesses. Structurally, we see upside in the funding market through an opening up of the ECB (external commercial borrowing) space. We believe the regulatory overhang is largely done and competitive intensity, though high, is not intensifying. We believe there is cyclical upside too–a long growth push-up, and easier liquidity and interest rates.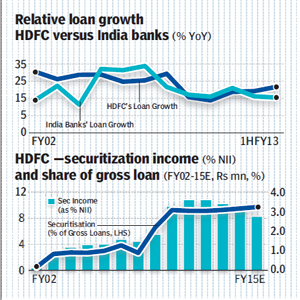 Valuation: Our target price of R860 is based on a sum-of-the-parts valuation, reflecting the significant and diverse values of its subsidiaries. We value the parent HDFC business at 4x PBV—price-to-book value—(long-term average), HDFC Bank at our target price of R645, the life insurance business at 15x (times) NBAP (new business achieved profit) or 2x embedded value, and the asset-management business at 6% of assets—all benchmarked off FY14e. We believe the rising strategic options and the structural and operating environment are all favourably positioned to support these multiples. In addition, HDFC has always traded at a premium on account of its high quality and credible management, which further adds to valuation upside.
Subsidiaries have grown up: While HDFC's own business has continued to grow and mature, we believe it has an increasing number of strategic options ahead. These are not necessarily new, but with its maturing subsidiaries, and a developing financial system, HDFC has the option of tweaking its business ahead. These are also not binary, and HDFC could well do, or be influenced by, one or more at the same time. It could also choose to do very little–which is what it has done for a while, and this