A year after our 2012 House of Debt report, we revisit the ten corporate groups featured in our earlier report. Over the past year, debt levels at these groups have risen by 15% year-on-year even as profitability continues to be under pressure. The largest increases have been at groups such as GVK, Lanco and Anil Ambani group (ADA) where the gross debt levels are up 24% y-o-y. For most of these corporate groups, the debt increase even outpaced capex. Asset sales—key for de-leveraging for most of these—have still not taken-off; only GMR and Videocon Industries Ltd have had some success on that front.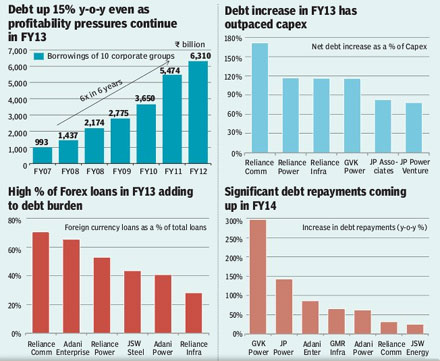 However, despite asset sales, GMR's debt is up 15% y-o-y. The increasing stress is visible with some loans of Lanco, JPA (Jaiprakash Associates) and Reliance ADA having already come up for restructuring.
Top ten firms' debts continue to rise
Loans to these firms up 15% y-o-y: Over the past year, profitability at most of these groups has continued to be under pressure and their aggregate debt levels have increased.
Projects already undergoing restructuring: Lanco Infratech Ltd has already begun talks with banks for the restructuring of R75 bn of debt in the standalone business. Banks have also restructured part of the debt for Reliance Power's 3,960 MW Sasan UMPP that is expected to commission most units in FY14. Jaiprakash Associates Ltd' R32 bn 500 MW Bina-I has undergone restructuring during the quarter, with Punjab National Bank (PNB) restructuring Rs11 bn of the loan during Q1FY14.
Asset sales will likely be key to deleveraging: While several groups have been looking to deleverage, only a couple of asset sales were successfully concluded over the past year. Even after an asset sale, GMR's debt levels have increased by 13% from R360 bn to R408 bn. While Adani Ports has sold Abbott Point asset to the promoters, it still has an outstanding corporate guarantee for $800m, as a result of which its liability hasn't reduced significantly.
Debt