New Delhi will ask Brussels to reconsider the decision by the European Commission (EC) to end a preferential tariff system for imports from India and other developing nations. Should the current regime of low customs duties end, it would make Indian goods more expensive with exporters paying anywhere between 6% and 12%. "We have a month's time before the new GSP (generalised system of preferences) regime to convince the EU," an official familiar with the development told FE.
The EU has decided to "graduate" exports of several items including textiles, chemicals, minerals, leather goods and motor vehicles from India out of its GSP scheme with effect from January. Preferential or nil customs duty to exports from developing nations under GSP is an exception to the World Trade Organisation obligation of member states to give every other member equal and non-discriminatory treatment under the 'Most Favoured Nation' status. Other products to be excluded from the preferential import tariff include bicycles, aircraft, spacecraft, ships and boats. India's exports to the European Union, which accounted for 17% of the country's total exports, shrank by over 4% in 2012-13 to $50 billion.
According to official sources, India's commerce ministry will also protest the EU's move to simultaneously grant zero customs duty on textile imports from Pakistan from January. This, according to New Delhi, will affect the regional competitiveness of India's textile industry, its second largest employment creator after agriculture.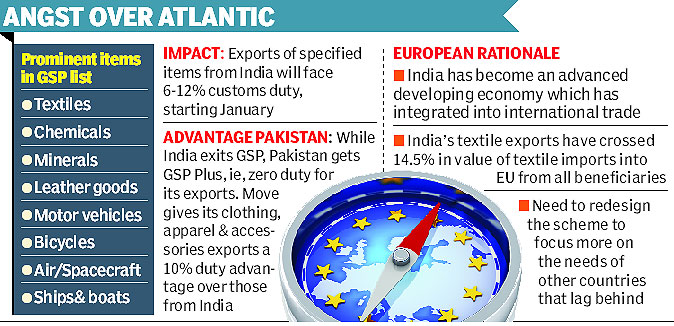 "We will take it up with Brussels because for textiles, it is a double whammy. The EU has removed Indian textiles exports from GSP, which means higher duty at EU borders, and they are in the process of giving textile exports from Pakistan GSP Plus status, which means zero duty," an official confirmed to FE.
The move gives clothing, apparel and accessories exports from Pakistan a 10% duty advantage over those from India. The official explained that the EU Parliamentary Committee's vote on November 5 to give GSP Plus status to textiles from Pakistan will have to be ratified by the European Parliament, which it is expected