Employees of public sector banks (PSBs) could soon get incentives like their private sector counterparts to perform better and acquire new skill sets. A government committee has recommended 15-20% variable component in their salary package, along with the removal of the existing upper limit for their remuneration. It has also pitched for a hike in retirement age to 62 years from the current 60, sources in the committee told FE. The committee, set up by the finance ministry, is expected to submit its report next week.
Significantly, if the committee's recommendations are accepted, each bank would be free to fix its salary structure based on its financial strength and also reward the highly-skilled with out-of-turn promotions.
The proposals are aimed at infusing a greater degree of professionalism in India's banking industry, which is on the cusp of a makeover with the slow and steady globalisation of the financial sector.
India's 27 PSBs have a combined manpower strength of 7 lakh. But the industry — which accounts for 70% of the banking business in the country — is experiencing a shortage of talent in high-end areas like risk management and treasury operations. Over 58% of middle-level managers in PSBs will retire in a couple of years.
The panel, headed by Bank of Baroda's former chairman AK Khandelwal, has recommended that each public sector banks be allowed to settle salaries for its employees in line with their specific skill sets and the bank's overall performance.
This will be an added incentive for existing employees to constantly upgrade their knowledge levels and skill-sets.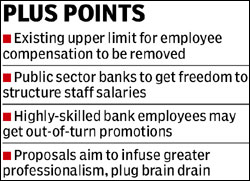 Set up last year, other members of the panel are MV Nair, CMD of Union Bank of India, Deepak B Phatak of IIT-Mumbai and TV Rao of IIM-Ahmedabad . When contacted, Nair, who is also chairman of Indian Banks' Association (IBA), told FE that "the report to be presented next week would have measures needed to revamp recruitment processes, career and succession planning and training."
PSBs follow an industry-wide wage settlement brokered by IBA once in five years, which will be scrapped if the recommendations are accepted. It may be recalled that