Gold prices dropped to more than three-week low at the local bullion market today on sustained selling by stockists and traders amid strong rupee and bearish global cues.
Silver also slumped to quote at two-week lows owing to heavy speculative unwinding.
Standard gold of 99.5 per cent purity dropped by Rs 550 to close at Rs 30,420 per 10 gm from last Saturday's closing level of Rs 30,970.
Pure gold of 99.9 per cent purity dipped by Rs 525 to finish at Rs 30,585 per 10 gm from Rs 31,110.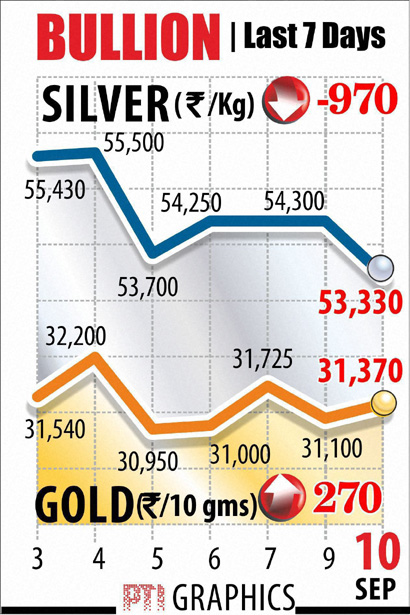 Silver ready (.999 fineness) tumbled by Rs 1,985 to conclude at 53,685 per kg as against Rs 55,670 last weekend.
The market was closed yesterday due to 'Ganesh Chathurti', festival.
The Indian rupee strengthened smartly to quote at Rs 63.84 against the dollar amid sharp gains in domestic equities and increased capital inflows.
In overseas markets, gold slid following Russian commitment on putting Syria's chemical weapons under international control, soothing concern over likelihood of a US-led strike on the war-torn country. Uncertainty over US monetary stimulus also weighed on the precious metal.
In London, spot gold was bid down at USD 1,371.19 an ounce in early trade. Spot silver was also bid lower by USD 23.22 an ounce.