Gold prices dipped to nearly two-week lows at the domestic bullion market today on consistent selling by stockists amidst dull demand and weak global cues.
Silver also fell and revisited the Rs 50,000 per kg level owing to speculative selling.
Standard gold of 99.5 per cent purity tanked by Rs 420 to close at Rs 30,680 per 10 grams from Wednesday's closing level of Rs 31,100.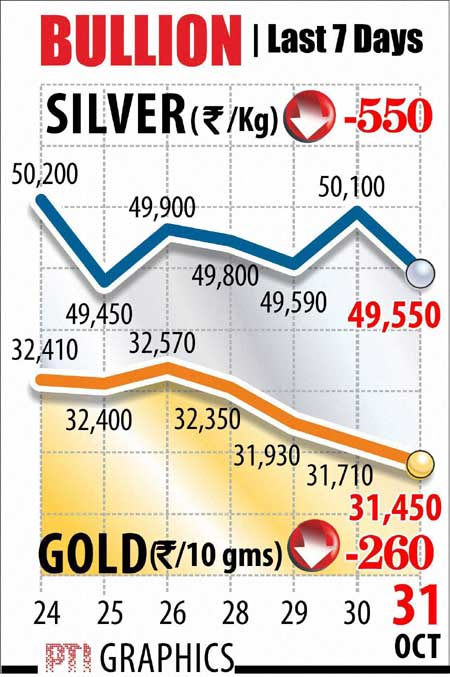 Pure gold of 99.9 per cent purity also slumped by a similar margin to finish at Rs 30,830 per 10 grams as against Rs 31,250.
Silver ready (.999 fineness) dropped by Rs 545 to conclude at Rs 49,985 per kg from Rs 50,530 previously.
Globally, the yellow metal slid to one-week lows on investor profit taking amid strong dollar despite the US Federal Reserve's outlook supporting its stimulus measures as well as weak Chinese demand.
Spot gold was bid lower at USD 1,335.36 an ounce in early trade, while spot silver bid down at USD 22.32 an ounce.