FM talks tough, tells insurers to stop mis-selling & keep schemes simpler
feBureau: New Delhi, Feb 05 2013, 03:36 IST
Slamming insurers for mis-selling products that have shaken investor confidence and subdued growth of the sector, finance minister P Chidambaram said on Monday life insurance schemes need to be made simpler and easy to understand for increasing the risk coverage and boosting financial savings of the country.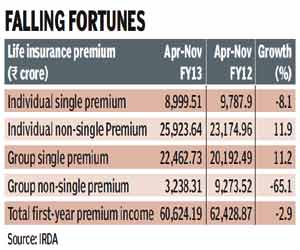 Even after more than 10 years of liberalisation, insurance penetration measured in terms of premium income to GDP was less than 4% in India and the total sum assured to GDP ratio was 55% compared to 150-250% in developed nations.
"Demand for banking products has been fast-paced while demand for insurance has been tepid," Chidambaram said highlighting the challenges lying ahead of insurers.
"It's a pity that India is one of the most under-insured markets. The reason why insurance sector has stumbled is because of mis-selling of products and complex products," he said at a function to mark the entry of Punjab National Bank in insurance with a 30% stake in a joint venture with Metlife India.
What was needed, he said was "simpler" products which can be easily understood by the consumers.
Irda has come up with the guidelines for simpler products in November last year and insurers are yet to come up with such products.
The statement comes amid a dismal show by insurers since last year when total life insurance premium collection dropped 3% year-on-year to R2.83 lakh crore during 2011-12. The total new business premium collected by all the insurers were R1.14 lakh crore last fiscal compared with