Foreign direct investment (FDI) in multi-brand retailing is set to become a reality, with a 26% cap. Political consensus in this regard has been hammered out at the higher levels of the UPA establishment, people with direct knowledge of the matter confirmed to FE.
With influential wings of the government including the PMO, finance ministry, agriculture ministry and the Planning Commission lending support for the crucial piece of economic reform, political backing was bound to come. This has also been one of the most pressing demands made by the US Administration on India, which found mention during President Obama's recent visit to the country.
FDI in retail could transform the way agriculture produce is procured, stored, conserved and marketed in the country. "It is being hoped that the entry of FDI will be allowed by offering minority stakes to foreign firms, as in the case of Indian print media," said a top government functionary.
Significant allies in the UPA like the Trinamool Congress and outside supporters BSP and SP had resisted FDI in retail trade, which was earlier proposed at 51%. However, even they are being pacified by the consensus formula of limiting the FDI in the sector initially at 26%.
"This (minority shareholding for foreign companies) is the way out which has been found," the source said.
Kamal Nath in UPA-I and Anand Sharma in UPA II—both commerce ministers—have been keen on allowing FDI in retail.
Department of industrial policy and promotion (DIPP), the nodal agency for FDI policy-making, had recently put out a consultation paper suggesting opening up retail in phases. The paper found support in key wings of the government like the finance ministry and the department of consumer affairs. Once DIPP gets the nod of UPA chairperson Sonia Gandhi—which is expected soon, given the PMO gesture— it will move a Cabinet note in this regard, an official involved in the policy-making process said.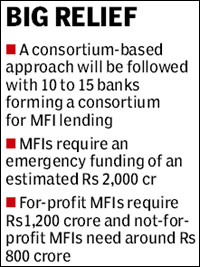 Proposals to open up multi-brand retail were thwarted by Left Front allies during UPA-1, which expressed fears over the future of small family-run outlets. But UPA-II has shown the resolve to push bold reforms like freeing up fuel prices. FDI in retail is the next big reform agenda of the government.
In 2007, during his stint at the commerce ministry, Kamal Nath had proposed up to 51% FDI in select retail segments; however, the proposal stalled after protests from