Equities outshine gold in first five weeks of calendar year
Devangi Gandhi: Mumbai, Feb 07 2013, 01:54 IST
Falling gold prices may restore some investor interest in equities. For the second consecutive year, domestic gold prices are expected to underperform equities, thanks to muted global prices, an appreciating rupee and government curbs on gold imports.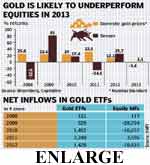 Market experts, therefore, expect equities to regain some of the shine as an investment avenue they had lost to the precious metal during the last five years.
Following more than $29 billion of foreign institutional flows since 2012 — even as Indian benchmark indices trade near two-year highs — domestic investors have largely opted out, given the sustained outflow from equity mutual funds and continuous selling by the domestic institutions, of the order of $14.6billion, during the period.
This scenario is likely to improve this year, believe some experts, as retail investors may get convinced of the scope of equities. "Unlike 2012, we are not likely to see huge exits of domestic investors this year. In fact, in the next 6-9 months, some interest may come back as investors align their portfolios with some liquidations of exposure in assets like gold and real estate," said Nirak Kumar, head of equity investments, Aviva Life Insurance.
Domestic gold prices have have given positive returns each year since 2000 even as annual returns on Sensex turned negative in both 2008 and 2011. In 2012, Sensex outdid gold by close to 14%.
Even in 2013 so far, the benchmark indices have gained close to 1.5%, whereas spot gold prices have dipped by a